About Us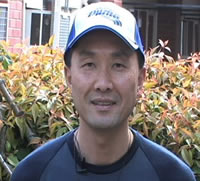 Hi! my name is John Kim.
It all started as just a summer job in '97. I went to work as a Driving Instructor for the first time and I think I was more nervous than a first time driver! Within a few months I became so well known that I decided to open my own driving school now known as Marin Driving School.
Within the first week upon opening my school I started teaching Drivers Education at Redwood High School in Larkspur. To this day I remain the only Driving Instructor in Marin to be certified by the Department of Motor Vehicles (DMV) to teach minors in a classroom at local Marin High Schools.
I feel that this gives me an edge because I am constantly keeping up with the latest DMV information. I personally sign and certify all Drivers Education Certificates.
If you have questions, I have answers.
For example:
Do I have to signal if I am in a turn only lane?
How do I know if there is enough room for me to do a lane change in front of that car?
Ever wonder about turning right on a red light?
What's the difference between a highway and a freeway?
What is defensive driving?
So get in touch with me today for the best Driving Lessons in Marin !